Biography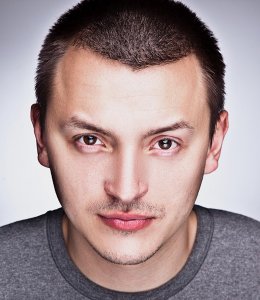 My name is Oleg Okunev.
I was born in July 7, 1983.
My childhood passed in a small town - Kherson.
After few years of working in Dnepropetrovsk, I returned to my native town.
Since I can remember, I've been drawing comics.
I have finished the Tauride Art Lyceum in southern Ukraine where I have received a classical art education.
It all started with the online newspaper Regiononline where my comical pictures and cartoons for the news feed were posted.
Then I stepped on a thorny path of adult comics where I had to perceive all the fascination and charm of the human anatomy.
At the moment my works are being published in the youth magazine of comics Bubble
https://vk.com/bubble
, which is dedicated to native superheroes.
Now I'm working at 4 main projects:
1. Metropolis. It is a comics in noir style, inspired by "Sin City". Comics will be animated to dark and cruel game. Game launched.
Link to Steam
.
2. Pestilence comics series. Based on scenario of veteran comics writer Frank Tieri. Work made for AfterShock Comics.
Buy you copy here
.
3. Cyrillic project. I have dream to create a new comics universe, where heroes of Slavic fairy tales lives in our world. For now I have only heroes, because I can work on it only in my free time.
4. I and Ivan Lytkin have plans to make a series of funny games (hidden objects games) with erotic content.
Game#1
,
Game#2
.
Come to read and see it all, my friends, you are very welcome!