PESTILENCE part 2 is now published!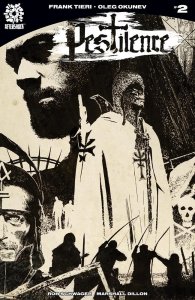 Roderick Helms and his men of Fiat Lux have set off on their mission to save Europe from the zombie plague that infests the continent. But as they arrive in Rome...will the undead hordes that await them put an end to their quest before it even begins?
Written by the master of violence, gore and mayhem, Frank Tieri (Marvel vs Capcom, Wolverine, Deadpool), with spectacular art from Disney illustrator Oleg Okunev, and covers by Eisner Award-nominated artist Tim Bradstreet (The Punisher, Hellblazer)!
You can buy you copy
here
0
Share:
Tags: